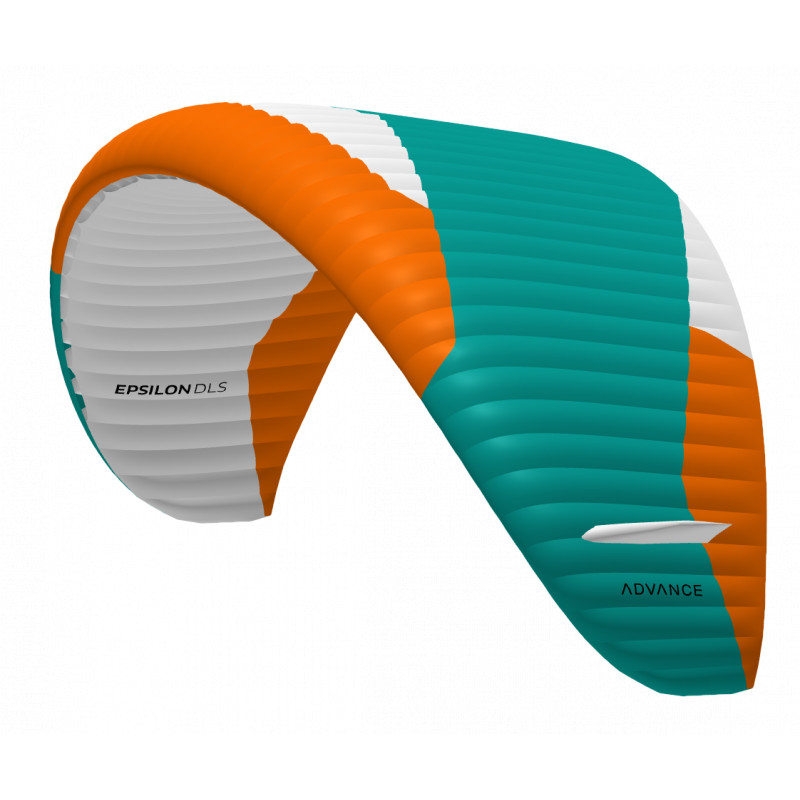  
copy of Advance Epsilon 9 - Paraglider EN B - Progression
The joy of flying
There is nothing special to do to give the taste of paragliding to a simple earthling fan of flight. What is special is to offer him positive experiences and high feelings of well-being, which allow him to practice this sport for many years after obtaining the pilot's license. And that's exactly what our new EPSILON series does.
The Rid'Air team's opinion:
" ... "
---
Take off, feel good
It's hard to get the EPSILON 9 to lose its cool. With great directional and general stability, it traces its furrow through the turbulent air masses. On the other hand, it converts actions on the brakes quickly and precisely. This synergy contributes to a factor of pleasure and well-being increased tenfold, in flight, an essential aspect, in addition to a great passive safety, to appreciate the free flight for many years.
New technologies for solid performance
Whether it's the internally stitched miniribs, state-of-the-art hybrid lines or low-drag Low Drag Stabilos, the EPSILON 9's leap forward in performance is the result of intensive development work and technological improvements. who as a result. This intermediate wing of course also has all the usual advanced features: Sliced ​​Diagonals, Advanced Airscoop and double 3D-Shaping.
Simple at all levels
Starting with choosing the right size and accelerating, through disentangling the lines, hooking up the risers and helping to make the ears: handling the EPSILON 9 is easy. and intuitive. Thanks to the new Automatic Dust Remove system, it even cleans itself during the flight!
---
PRESENTATION TECHNICAL SHEET MANUAL HOMOLOGATION SUSPENTAGE PLAIN
---
16 other products in the same category:
Brand: Air Design
…A word? Nimble! ...An image? A bivouac at sunset with plenty of opportunities for the next day …A dream? A crazy expedition from Patagonia to Alaska in vol-bivouac
Price
€3,526.00
Regular price
€4,100.00
 On Demand
Brand: Niviuk
The RISE of a New Era The knowledge gained from the development of the Artik 6 and our other two-liners (the Peak 6, for example) has allowed us to develop the Artik Race, a two-liner EN C.
Price
€3,531.96
Regular price
€4,470.83
 On Demand
Reference: WAYFOXY
Brand: Way Gliders
The EN / LFT B+ accessible freestyle wing The Foxy is a wing dedicated to accro & freestyle Indulgent when attempting choppers, SATs, Misty Flips... She will never let you down! Homologated EN B+, the Foxy is a very versatile freestyle wing that will accompany you as you progress in acrobatic flight!
Price
€1,787.79
Regular price
€2,180.23
 On Demand
Reference: WAYLACY
Brand: Way Gliders
The versatile, simple and light wing EN / LFT ALacy is the beginning wing of initiation.Designed with a view to obtaining the best ratio comfort/performance, it is the ideal first wing in a pilot's life.What? 3.5 kg? This also makes it a rando/travel wing for the more experienced pilot!A new category of wings is born!
Price
€1,930.81
Regular price
€2,354.65
 On Demand
Brand: Sup'Air
THE SWISS KNIFE MADE IN SUPAIR A versatile, fun and safe wing EN A+ paraglider for autonomous pilots. A top-of-the-range EN A, stretched for its class. Efficient and safe.
Price
€2,699.17
Regular price
€3,291.67
 On Demand
Price
€3,950.00
Regular price
€5,000.00
 On Demand
Brand: Ozone
Lighter, more powerful and more fun than ever! The new Geo 6 represents both the biggest performance increase and the most dramatic weight gain in the entire series. A completely new design allows for significantly higher speed and better glide throughout the speed range, with True Active Air Performance. Modern construction techniques and judicious use...
Price
€3,031.50
Regular price
€3,525.00
 On Demand
Brand: Ozone
Sold with 110 l bag for sizes XS and S, 140 l for larger sizes
Price
€3,719.50
Regular price
€4,325.00
 On Demand
Brand: Ozone
The Lightweight 3-line High Performance wing with Enzo 3 and Zeno technology The LM7 is a lightweight wing designed for cross country flying that incorporates the latest technology developed for our competition wings. It is a compact, lightweight and elegant 3-line. The profile, planform and vault have been developed from the Zeno, while the aspect ratio...
Price
€3,979.63
Regular price
€5,037.50
 On Demand
Reference: VIVKLIM2P
Brand: Niviuk
A legacy of competition The second generation of Klimber was born with the desire to offer the best balance between lightness and performance. It's a two-line kite whose power pushes the limits of both Hike & Fly and Cross Country. With a competitive character, it was designed for the X-Alps.
Price
€3,640.58
Regular price
€4,608.33
 On Demand
Brand: Air Design
The Vivo is our brand new wing for the EN-B category – and to some extent it is the successor to the Vita, but it is so advanced in design and technology that we have decided to give it a new name. You can always expect more from a newly developed paraglider, the Vivo is not just an evolution! Long live the revolution!
Price
€2,870.00
Regular price
€3,500.00
 On Demand
Reference: ADVBIBETA6
Brand: Advance
More fun at work Flying should be fun. If you do 10 flights a day as a professional tandem pilot - when your priorities are between efficiency, economy and passenger safety, flying is often hard work. For the BIBETA 6 we have strived to achieve the ambitious goal of bringing together the best of current two-seater sails in one and the same product,...
Price
€3,307.33
Regular price
€4,033.33
 On Demand
Brand: Ozone
Safety and Ease in Rando Flight A completely new design, the Jomo 2 offers best-in-class performance. It outperforms the previous version in both glide and handling, passive safety or takeoff. The use of carefully selected materials and optimal assembly techniques allowed the Ozone R&D team to achieve a particularly light wing with a very low volume...
Price
€2,675.25
Regular price
€3,262.50
 On Demand
Brand: Air Design
…a word? Pioneer! …a picture? The power you feel in the face of a storm. …a dream? Flying in two lines is no longer a dream! This is your reality!
Price
€3,397.00
Regular price
€4,300.00
 On Demand
Brand: Sup'Air
Leave the nest The Eona 3 is the ideal glider for beginning paragliding. Safe, fun and robust at the same time, it will be your faithful ally to discover the joys of flight. 5 sizes available in 6 colors.
Price
€2,391.67
Regular price
€2,916.67
 On Demand
Brand: Ozone
The cross country access wing in its new version. enjoy the "real" piloting at the rear on a 3-line, like on the M7 or the Delta. RUSH 6 THE 3/2 LINE INTERMEDIATE SPORTS PARAGLIDER Developed from the Delta 4 Best finesse in its category Incredible stability in turbulence and active air Improved sink rate and lift performance Active Control Risers (ACR)...
Price
€3,348.33
Regular price
€4,083.33
 On Demand