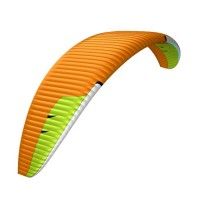 EN D Paragliding
Level flights and for competitions
These D-approved wings are made for level flights and for competitions. They will take expert and demanding pilots off from steep and uneven slopes in complete safety.
Very active pilots, trained in the techniques of leaving the flight envelope and experienced in flights in turbulent conditions will appreciate the high performance of these wings.
You will find on this page cross-country wings, light wings as well as wings specially dedicated to competitions.
Brand: Niviuk
UPGRADE More performance with incredibly smooth and efficient cornering. The Peak 6's top speed has been improved while still being easy to control. Our R+D team has designed a new profile and a completely new load distribution in the internal structure to improve the surface finish and the gliding experience in flight. All this, without losing the great...
Price
€4,005.96
Regular price
€5,070.83
 On Demand
Brand: Ozone
Four years after the Zeno's release, it remains top of the EN D class, and we knew it wouldn't be easy to replace it, but after two years of intense R&D, we finally have a worthy successor.
Price
€4,318.67
Regular price
€5,466.67
 On Demand
Reference: VIVKLIM2P
Brand: Niviuk
A legacy of competition The third generation of Klimber was born with the desire to offer the best balance between lightness and performance. It's a two-line kite whose power pushes the limits of both Hike & Fly and Cross Country. With a competitive character, it was designed for the X-Alps.
Price
€4,163.96
Regular price
€5,270.83
 On Demand