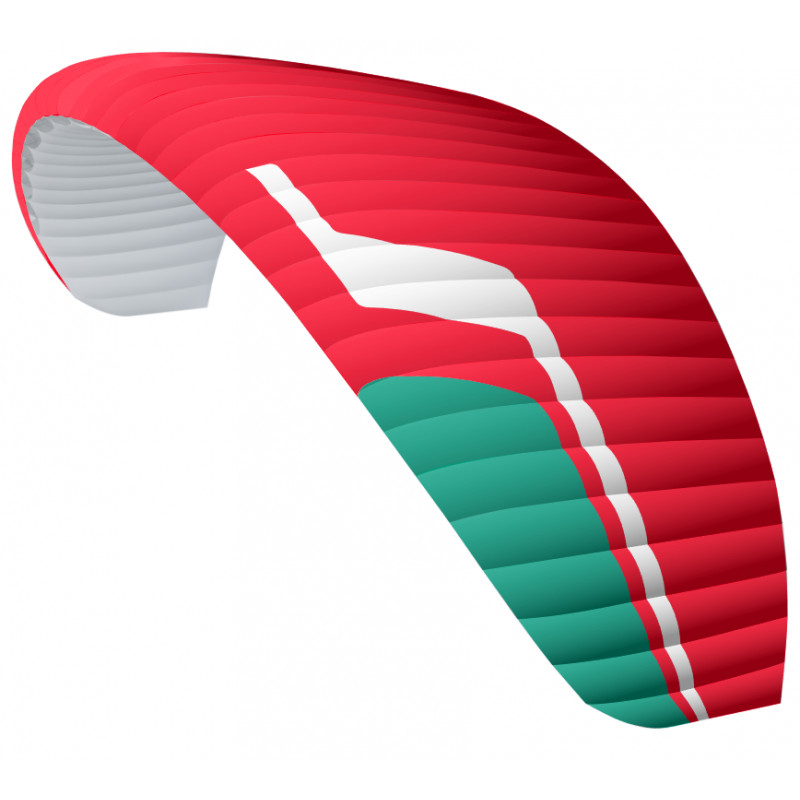  
Niviuk Koyot 5 - Paragliding EN A - Initiation
Release your inner pilot
Discover the exciting world of paragliding. Gain confidence and basic skills.
The Rid'Air team's opinion:
"The canopy is sublime, the behavior is exemplary and we have already adopted it for our school park at the Centre Ecole du Markstein."
---
Easy
Smooth, controlled and stable movements. A wing that is as easy as it is comfortable. Excellent turn quality and outstanding thermal behaviour. Long brake travel.
Comfort
New, more modern design. Advanced technological innovations. Optimal passive safety. Unrivalled ergonomics.
Stable
Stable in all phases of flight. Simple and progressive inflation. Pleasure and learning above all.
Teaching, flying fun
Certified EN A, the Koyot 5 is an ideal flying companion for the beginner pilot as well as for the pilot looking for a fun wing with low piloting demands.
Progression
The pilot will progress at his own pace, easily and safely. A docile wing with progressive and healthy reactions, but still performing well.
---
---
16 other products in the same category:
Reference: NIVROLLER
Brand: Niviuk
Remember you have no limit Speed, precision and agility, it's all in one remarkably versatile wing.
Price
€1,484.22
Regular price
€1,725.83
 On Demand
Brand: Advance
The IOTA 3 becomes the IOTA DLS. We took advantage of this period to improve our top class B wing, which was already well developed in terms of performance and handling. We have made it significantly lighter and also taken it to a higher level. Welcome to IOTA DLS. DLS stands for DURABLE LIGHTWEIGHT STRUCTURE and marks the start of a new development...
Price
€3,647.83
Regular price
€4,241.67
 On Demand
Brand: Ozone
Lighter, more powerful and more fun than ever! The new Geo 6 represents both the biggest performance increase and the most dramatic weight gain in the entire series. A completely new design allows for significantly higher speed and better glide throughout the speed range, with True Active Air Performance. Modern construction techniques and judicious use...
Price
€3,031.50
Regular price
€3,525.00
 On Demand
Reference: NIVTAKOO5
Brand: Niviuk
It's time to get closer The fifth generation of Takoo marks the end of the distance between pilot and passenger. A safe, stable and extremely manoeuvrable wing to meet the expectations of both adventurers.
Price
€3,332.50
Regular price
€3,875.00
 On Demand
Price
€2,888.17
Regular price
€3,358.33
 On Demand
Brand: Niviuk
The Kode P is the ally of your hikes: light to carry and super easy to handle in the air. The walk will be even more pleasant and the pleasure of the descent; the just reward after the effort! Accessibility! Lightness! Versatility! Sizes 16 and 18 for seasoned pilots.
Price
€2,572.83
Regular price
€2,991.67
 On Demand
Brand: Ozone
Sport Performance Light With best-in-class performance and outstanding accessibility and comfort, the Alpina is a benchmark in the lightweight EN C wing category. A worthy heir, the Alpina 4 represents a leap in performance never before seen in the series.
Price
€4,160.25
Regular price
€4,837.50
 On Demand
Brand: Ozone
Safety and Ease in Rando Flight A completely new design, the Jomo 2 offers best-in-class performance. It outperforms the previous version in both glide and handling, passive safety or takeoff. The use of carefully selected materials and optimal assembly techniques allowed the Ozone R&D team to achieve a particularly light wing with a very low volume...
Price
€2,805.75
Regular price
€3,262.50
 On Demand
Reference: nt
Brand: Air Design
Fun and light mini or mountain sail EN / LFT A The Susi 3 is an ultra-versatile and fun second knife. Whether you're looking for a kite for soaring in strong winds, for rando flying, or for travel, the Susi 3 fills all of these boxes! A new category of wing is born!
Price
€2,511.00
Regular price
€2,790.00
 On Demand
Brand: Sup'Air
Ultra-light backpack All the precision and comfort of the LEAF2 in a lighter, smaller backpack.
Price
€3,189.17
Regular price
€3,708.33
 On Demand
Brand: Advance
Ultra-light two-seater for hiking and travelling. Efficient and easy. The ideal ally for your adventures!
Price
€3,683.67
Regular price
€4,283.33
 On Demand
Brand: Ozone
The choice of professionals, for pilot enjoyment and passenger comfort. The Magnum 3 is designed for professional pilots. Its entirely new design allows for remarkable advances in longevity, comfort and ease of use, and especially in the areas of inflation, landing and flight agility.
Price
€3,511.67
Regular price
€4,083.33
 On Demand
Reference: ADVEPSI9
Brand: Advance
The joy of flying There is nothing special to do to give the taste of paragliding to a simple earthling fan of flight. What is special is to offer him positive experiences and high feelings of well-being, which allow him to practice this sport for many years after obtaining the pilot's license. And that's exactly what our new EPSILON series does.
Price
€3,110.33
Regular price
€3,616.67
 On Demand
Price
€2,049.67
Regular price
€2,383.33
 On Demand
Brand: Ozone
The Lightweight 3-line High Performance wing with Enzo 3 and Zeno technology The LM7 is a lightweight wing designed for cross country flying that incorporates the latest technology developed for our competition wings. It is a compact, lightweight and elegant 3-line. The profile, planform and vault have been developed from the Zeno, while the aspect ratio...
Price
€4,332.25
Regular price
€5,037.50
 On Demand
Brand: Sup'Air
THE SWISS KNIFE MADE IN SUPAIR A versatile, fun and safe wing EN A+ paraglider for autonomous pilots. A top-of-the-range EN A, stretched for its class. Efficient and safe.
Price
€2,759.17
Regular price
€3,208.33
 On Demand