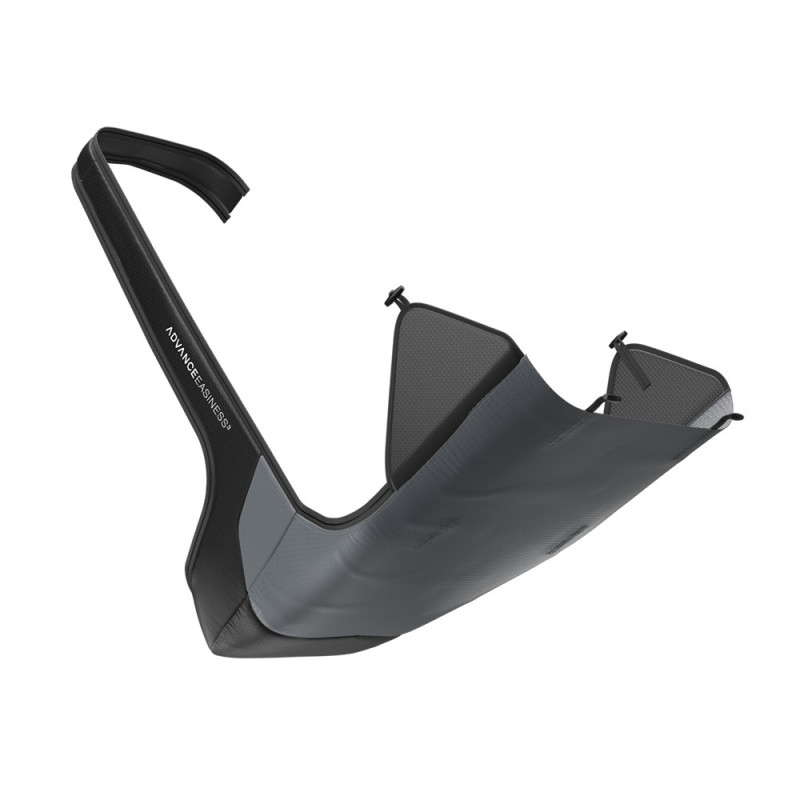  
Advance Backside Cover - For Easiness 3 harness
Suitable for the Easiness 3 harness.
Allows you to fly without an airbag while protecting the harness. 
Reference: ADVEASI3
Brand: Advance
Hiking, and much more Universal use, double comfort and functionality: thanks to its modular construction, the new lightweight and reversible EASINESS 3 harness accompanies you during the most varied free flight adventures, whether it is Hike & Fly, thermal flight or travel. The removable airbag with integrated emergency container ensures maximum...
Price
€666.50
Regular price
€775.00
 Stock
16 other products in the same category:
Brand: Sup'Air
Perfect for hanging up a rescue parachute.
Brand: Sup'Air
Particularly suited to progression harnesses such as the EVO LITE, PIXAIR 2, ALTIRANDO LITE, this cockpit is perfect for long flights.
Brand: Sup'Air
Perfect for hanging up a rescue parachute.
Brand: Sup'Air
QUICK BAG, TOTE TYPE. Ideal for easily storing a corolla paraglider. The implementation is fast.
Brand: Kortel
The quick out release links are designed to purely and simply release your glider. Maillon Widths Easy to use Real safety asset
Brand: Sup'Air
Developed specifically for harnesses with 30mm webbing hooks for 68g.
Reference: NIVKOLIBAG
Brand: Niviuk
Pouffe bag for quickly folding your kite into a ball. Ideal for repeated use during the day (gondola, etc.) Has carrying straps like a backpack. A harness and a wing fit there.
Brand: Flymaster
Simple and effective GPS vario for paragliding. Clear and easy to use, it rivals a high-end variometer for an affordable price.
Brand: Flymaster
A GPS suitable for free flight and easy to use. Large, shock-resistant display. SD card slot for more functions.
Brand: Sup'Air
Design resulting from a collaboration with Freespee, specialist in paragliding accelerators. It fits on all Sup'Air harnesses.
Brand: Rid'Air
This topoguide is a selection of 70 flying sites in France, undoubtedly the most beautiful, the most practical, those with the best potential. With it, you have all the information to make flying easier and safer. All that remains is to choose your destination!
Reference: ADVBANANE
Brand: Advance
Medium in size, let's say "standard". Main pocket, 2 small front pockets, 2 small side pockets, 1 back pocket. Adjustable strap. ADVANCE embroidery on the front.
Brand: Sup'Air
Developed specifically for harnesses with 45mm webbing hooks for 72g
Brand: Advance
Slim and compact, as always, but in a completely new design: the COMFORTPACK 4 offers maximum comfort during transport and plenty of space for all paragliding equipment. Despite many additional small compartments, the absolutely clean design of this paraglider transport bag arouses enthusiasm. Four sizes: 100l to 145l Colour: Light Grey
Reference: ADVREPPIEDAX
Brand: Advance
This footrest is delivered with the accelerator. It is available as an option with the AXESS 3/4, SUCCESS 3/4 and the PROGRESS 3. It is LTF 91/09 approved with these three harnesses. ADVANCE recommends using only this accelerator with the footrest.