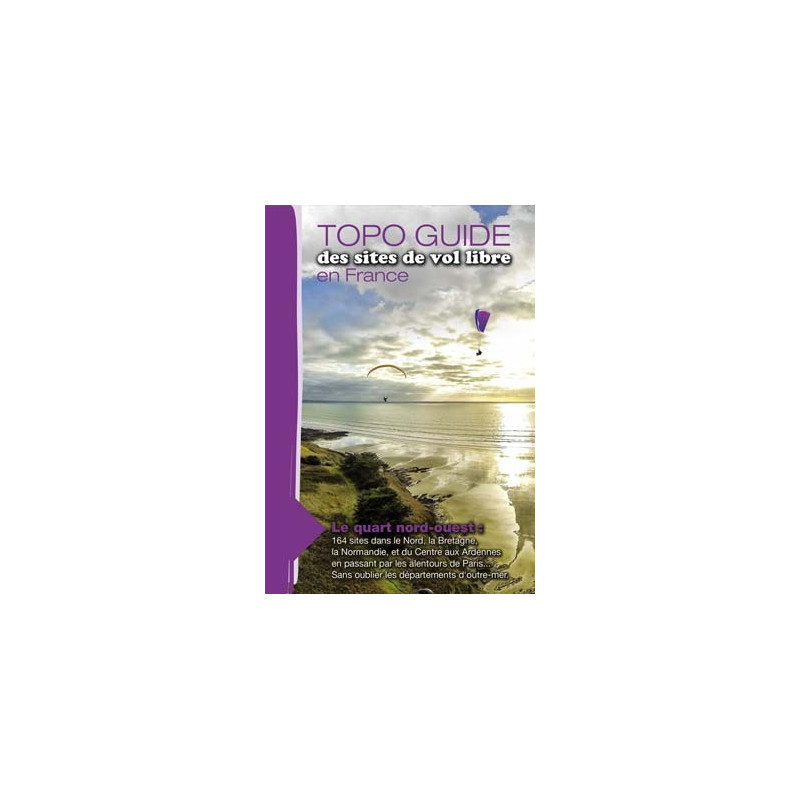  
Book - Toposite Quart Nord Ouest - Free flight sites
Flight sites in the North West quarter of France.
Ideal for discovering sites.
Perfect for going on vacation or as gift ideas for a paraglider.
Go on an adventure with your paraglider by discovering the 450 pages of this topoguide on the paragliding sites of North-West France.
Dynamic flights by the sea on the Brittany coast, cross-country, via small high-potential sites in the center or around Paris:
This topo-guide describes the 141 hang-gliding sites in the large northwest quarter of France.
Perhaps you are more of a tropical forest, flying above a turquoise sea, lagoons, turtles and rays? So, head to the 23 sites of the overseas departments.
Discover splendid and little-known flying sites in the northwest. Off the beaten track of paragliding reveals nuggets not to be missed.
Take your sail to the northwest and enjoy!
Exhaustive: for each site, a detailed map of take-offs and landings, level, type of flight, access, orientation, elevation, GPS coordinates, as well as instructions and advice.
Practical: a table summarizing the orientations of the decorations and the favorable or unfavorable winds, as well as all the information to choose the right site: aerology, restrictions, good plans for the premises, cross-country routes...
Here is the first collection of topo-guides listing all the official free flight sites in France, in 4 volumes with more than 600 sites!
In this guide, the south-west quarter: Departments of Ariège (09), Aude (11), Aveyron (12), Cantal (15), Charente (16), Charente-Maritime (17), Corrèze (19), Dordogne (24), Haute-Garonne (31), Gers (32), Gironde (33), Hérault (34), Landes (40), Lot (46), Lot-et-Garonne (47), Puy-de-Dôme (63), Pyrénées-Atlantiques (64), Hautes-Pyrénées (65), Pyrénées-Orientales (66), Tarn (81), Tarn-et-Garonne (82).
16 other products in the same category: