 
AirDesign - Susi 4 - Light paraglider EN-A-D - Initiation and Progression
…in a nutshell?
Unlimited
…in one picture?
All these so different SuSi passengers having fun together.
…in a dream?
Take my passenger on a world tour by bike, fly high, mountains, dunes, soaring, cross country and so much more.
Rid'Air team opinion:
"Once again, history repeats itself. The Super Simple paraglider enters its 4th generation"
---
Double-coated Skytex, lined seams and border braids: sturdiness is key!
Unsheathed but color-coded lines, strength has never been so easy to disentangle.
Shark nose with Nitinol rods not only to save weight and sturdiness, but for an even more compact folding. So that it fits easily in your small bag.
At the leading edge, ground attachment loops can be used to prevent the paraglider from slipping on a steep and/or slippery (snow) slope.
Razor edge and seamless trailing edge: all seams are internal for an even cleaner surface finish.
Risers of your choice, comfortable in 12mm aramid, or Superlight in dyneema.
New B-C controls, easier and more stable at high speeds.
Technical specifications & Colors
SuSi 4 is homologated from A to D and therefore covers all kinds of needs, pilot skills and practices. And this from very small surfaces already certified EN A (18m2 flat) or B (14, 16m2 flat). Use our tools on this page to find the right one for you!
---
Brochure - Certification - Lines - Manual - Test report
---
SIZE
14
16
18
21
23
26
FLAT SURFACE (m²)
14.09
16.34
18.72
21.16
23.61
25.96
PROJECTED AREA (m²)
12.18
14.12
16.17
18.28
20.40
22.43
FLAT SPAN (m)
8.28
8.91
9.54
10.14
10.71
11.24
PROJECTED SPAN (m)
6.70
7.22
7.72
8.21
8.67
9.10
FLAT ELONGATION
4.86
4.86
4.86
4.86
4.86
4.86
PROJECTED LENGTH
3.69
3.69
3.69
3.69
3.69
3.69
CELLS
34
34
34
34
34
RISERS
Superlight
Superlight
12mm Aramid
12mm Aramid
12mm Aramid
12mm Aramid
WEIGHT (kg)
Superlight risers with Softlinks
1.95
2.18
2.41
2.63
2.85
3.1
WEIGHT (kg)
12mm Aramid Risers with Links
2.18
2.41
2.64
2.86
3.08
3.33
TOTAL FLYING WEIGHT (kg)
standard - EN CERTIFICATION
50-60 (B)
50-65 (B)
50-72 (A)
60-83 (A)
72-97 (A)
85-110 (A)
TOTAL FLYING WEIGHT (kg)
extended - EN CERTIFICATION
60-90 (D)
65-90 (C)
72-90 (B)
83-103 (B)
97-117 (B)
110-125 (B)
The wings are delivered by default with the risers mentioned in the table. Alternative risers are available to order, or as accessories.
The SpeedChart will help you choose the size of SuSi according to your pilot profile.
The Total Flying Weight includes the equipped pilot, his harness, his reserve and his wing.
Superlight: 14 - 16 m2
12mm Aramid: 18 - 21 - 23 - 26m2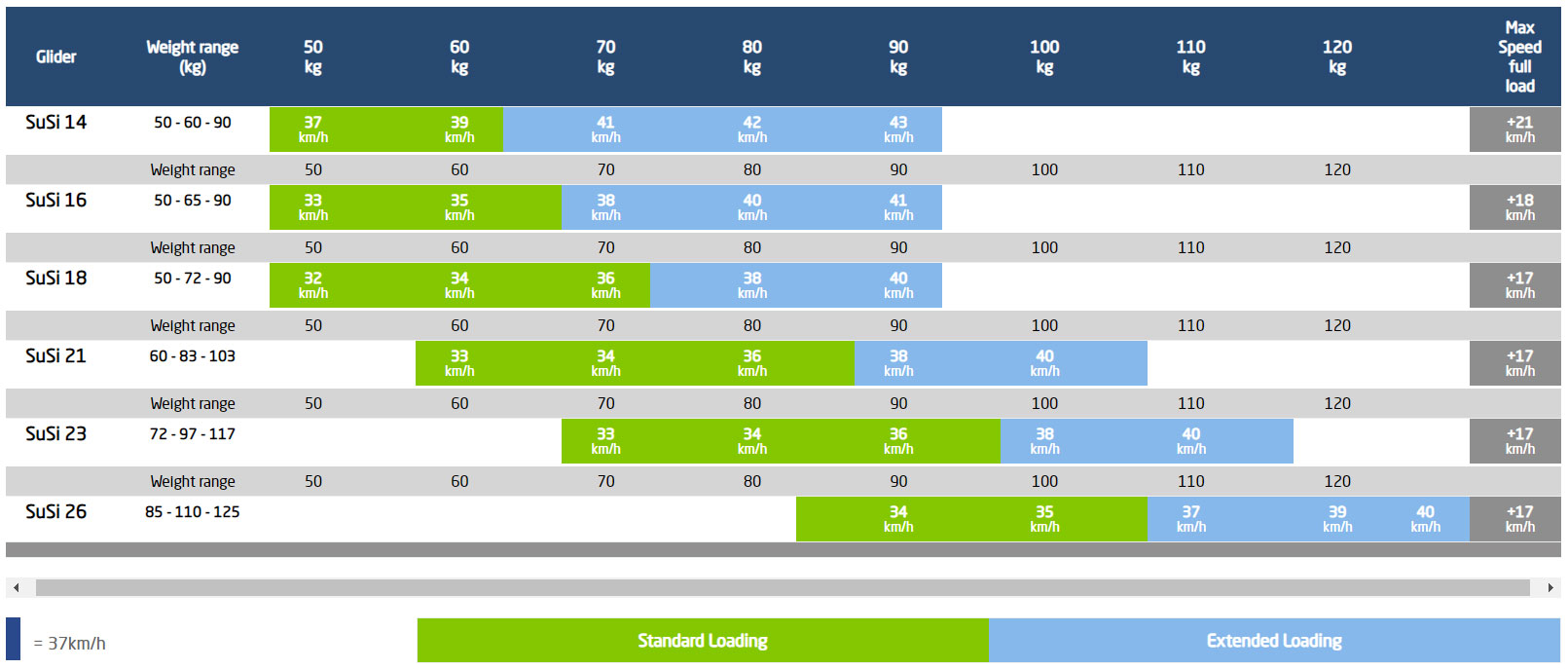 16 other products in the same category: