 
AirDesign - Susi 4 - Light paraglider EN-A-D - Initiation and Progression
…in a nutshell?
Unlimited
…in one picture?
All these so different SuSi passengers having fun together.
…in a dream?
Take my passenger on a world tour by bike, fly high, mountains, dunes, soaring, cross country and so much more.
Rid'Air team opinion:
"Once again, history repeats itself. The Super Simple paraglider enters its 4th generation"
---
Double-coated Skytex, lined seams and border braids: sturdiness is key!
Unsheathed but color-coded lines, strength has never been so easy to disentangle.
Shark nose with Nitinol rods not only to save weight and sturdiness, but for an even more compact folding. So that it fits easily in your small bag.
At the leading edge, ground attachment loops can be used to prevent the paraglider from slipping on a steep and/or slippery (snow) slope.
Razor edge and seamless trailing edge: all seams are internal for an even cleaner surface finish.
Risers of your choice, comfortable in 12mm aramid, or Superlight in dyneema.
New B-C controls, easier and more stable at high speeds.
Technical specifications & Colors
SuSi 4 is homologated from A to D and therefore covers all kinds of needs, pilot skills and practices. And this from very small surfaces already certified EN A (18m2 flat) or B (14, 16m2 flat). Use our tools on this page to find the right one for you!
---
Brochure - Certification - Lines - Manual - Test report
---
SIZE
14
16
18
21
23
26
FLAT SURFACE (m²)
14.09
16.34
18.72
21.16
23.61
25.96
PROJECTED AREA (m²)
12.18
14.12
16.17
18.28
20.40
22.43
FLAT SPAN (m)
8.28
8.91
9.54
10.14
10.71
11.24
PROJECTED SPAN (m)
6.70
7.22
7.72
8.21
8.67
9.10
FLAT ELONGATION
4.86
4.86
4.86
4.86
4.86
4.86
PROJECTED LENGTH
3.69
3.69
3.69
3.69
3.69
3.69
CELLS
34
34
34
34
34
RISERS
Superlight
Superlight
12mm Aramid
12mm Aramid
12mm Aramid
12mm Aramid
WEIGHT (kg)
Superlight risers with Softlinks
1.95
2.18
2.41
2.63
2.85
3.1
WEIGHT (kg)
12mm Aramid Risers with Links
2.18
2.41
2.64
2.86
3.08
3.33
TOTAL FLYING WEIGHT (kg)
standard - EN CERTIFICATION
50-60 (B)
50-65 (B)
50-72 (A)
60-83 (A)
72-97 (A)
85-110 (A)
TOTAL FLYING WEIGHT (kg)
extended - EN CERTIFICATION
60-90 (D)
65-90 (C)
72-90 (B)
83-103 (B)
97-117 (B)
110-125 (B)
The wings are delivered by default with the risers mentioned in the table. Alternative risers are available to order, or as accessories.
The SpeedChart will help you choose the size of SuSi according to your pilot profile.
The Total Flying Weight includes the equipped pilot, his harness, his reserve and his wing.
Superlight: 14 - 16 m2
12mm Aramid: 18 - 21 - 23 - 26m2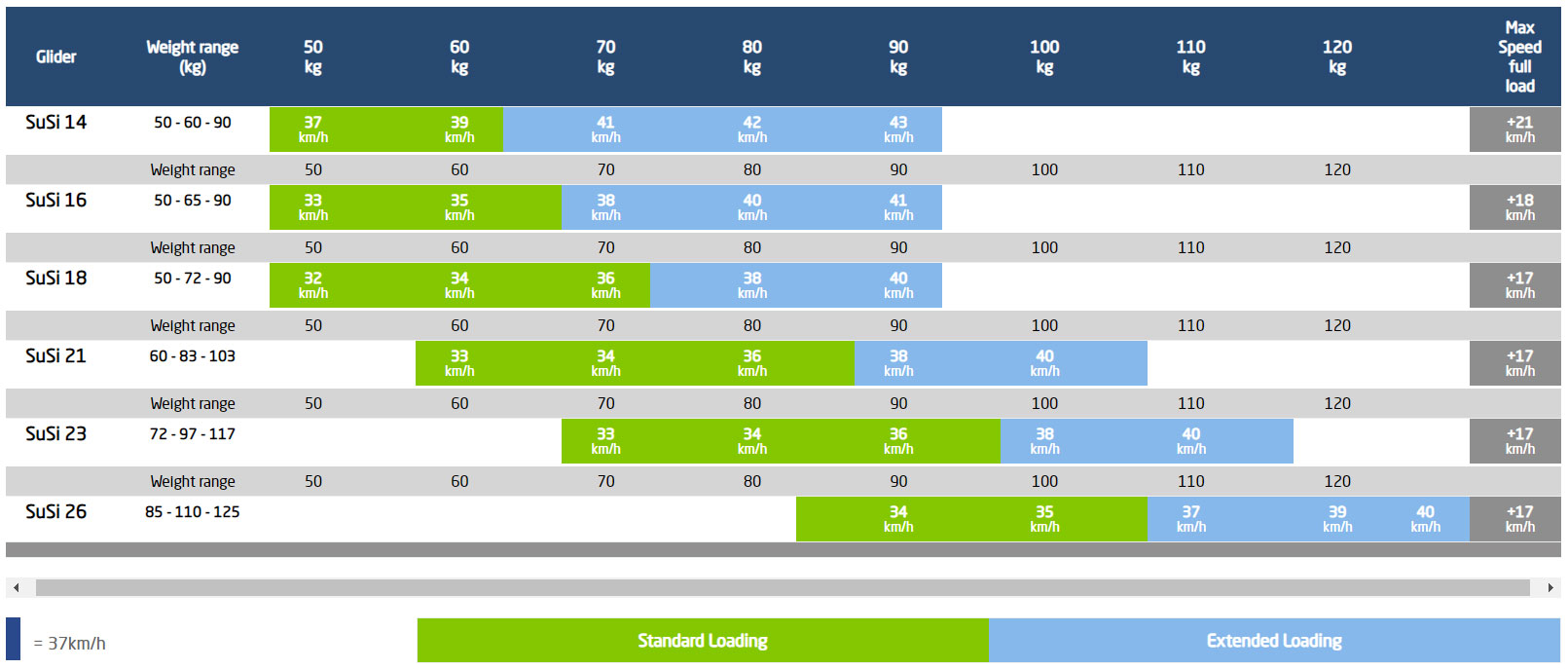 16 other products in the same category:
Brand: Niviuk
UPGRADE More performance with incredibly smooth and efficient cornering. The Peak 6's top speed has been improved while still being easy to control. Our R+D team has designed a new profile and a completely new load distribution in the internal structure to improve the surface finish and the gliding experience in flight. All this, without losing the great...
Price
€3,923.93
Regular price
€4,967.00
 On Demand
Brand: Ozone
The Wisp is an ultra-lightweight tandem wing, perfect for two-person mountain adventures.It's a fun, agile and easy to fly wing, all in a solo weight and volume!
Price
€3,806.17
Regular price
€4,641.67
 On Demand
Reference: OZOMOJO6
Brand: Ozone
Best-in-Class Performance, Maximum Safety The Mojo 6 represents an incredible leap forward in performance. This new version features the highest level of passive safety and best-in-class glide. During the development of this project, our mission was to push the performance level to the maximum while maintaining the great stability and ease of use that has...
Price
€2,562.50
Regular price
€3,125.00
 On Demand
Brand: Ozone
Positively, absolutely and still the lightest twin-surface paraglider in the world OZONE's research into ultralight wing manufacturing began in 2001, with the introduction of the Peak, one of the first wings specifically designed for mountain use.
Price
€2,282.33
Regular price
€2,783.33
 On Demand
Brand: Niviuk
The RISE of a New Era The knowledge gained from the development of the Artik 6 and our other two-liners (the Peak 6, for example) has allowed us to develop the Artik Race, a two-liner EN C.
Price
€3,800.21
Regular price
€4,470.83
 On Demand
Brand: Sup'Air
Leave the nest The Eona 3 is the ideal glider for beginning paragliding. Safe, fun and robust at the same time, it will be your faithful ally to discover the joys of flight. 5 sizes available in 6 colors.
Price
€2,391.67
Regular price
€2,916.67
 On Demand
Reference: ADVOMEGA3
Brand: Advance
Challenge yourself! New latest generation light racing wing: two rows of lines, and a character designed for the highest demands in the most extreme conditions. For the toughest paragliding race in the world, renowned pilots have bet on the OMEGA XALPS 3: in the lead, the big favorite of the X-Alps, Chrigel Maurer in person, but also Aaron Durogati, Toma...
Price
€4,115.42
Regular price
€4,841.67
 On Demand
Brand: Niviuk
The new EN B reference. Polyvalent, safe and high performance. Exceptional maneuverability.
Price
€2,770.92
Regular price
€3,379.17
 On Demand
Reference: NIVKOYOT4
Brand: Niviuk
Release your inner pilot Discover the exciting world of paragliding. Gain confidence and basic skills.
Price
€2,360.92
Regular price
€2,879.17
 On Demand
Brand: Ozone
After the Rush 5, but 30% lighter The Swift 5 is a reference wing in the Sport-Performance-Light Intermediate category. It was developed with the same technologies as our performance wings, the Enzo 3 and the Zeno, plus some innovations. More than fifteen years of R&D in lightweight sails has resulted in a sail that is not only top of its class in...
Price
€3,283.42
Regular price
€4,004.17
 On Demand
Ultra lightweight single-surface. Ideal with a string harness. The ally of your cross-country flights.
Price
€2,046.08
Regular price
€2,379.17
 On Demand
Reference: NIVTAKOO5
Brand: Niviuk
It's time to get closer The fifth generation of Takoo marks the end of the distance between pilot and passenger. A safe, stable and extremely manoeuvrable wing to meet the expectations of both adventurers.
Price
€3,211.67
Regular price
€3,916.67
 On Demand
Reference: WAYRUBY
Brand: Way Gliders
The EN / LFT B+ accessible cross country wing The Ruby is a dedicated cross country wing Its goal is to give you the best performance possible with a lightweight and maneuverable machine. With the Ruby, your only limit is the length of the day. Homologated EN B+, this is definitely the wing for your first "100 kilometer"!!
Price
€2,105.62
Regular price
€2,567.83
 On Demand
Brand: Air Design
…a word? Universal! …a picture? A magnetic attraction! At the deco, people can't help but touch it or inflate it. They are like hypnotized. …a dream? Alone on an isolated peak… in a galaxy far, far away…
Price
€2,322.00
Regular price
€2,700.00
 On Demand
Reference: NIVSKIN3
Brand: Niviuk
The next big paragliding experience Forget everything you may have heard on single-surface sails. The new Skin 3 brings together the best of dual-surface and mono technologies: for the first time, a single-surface wing offers characteristics and flight comfort comparable to those of a classic paraglider: Comfortable, stable, efficient
Price
€1,814.25
Regular price
€2,212.50
 On Demand