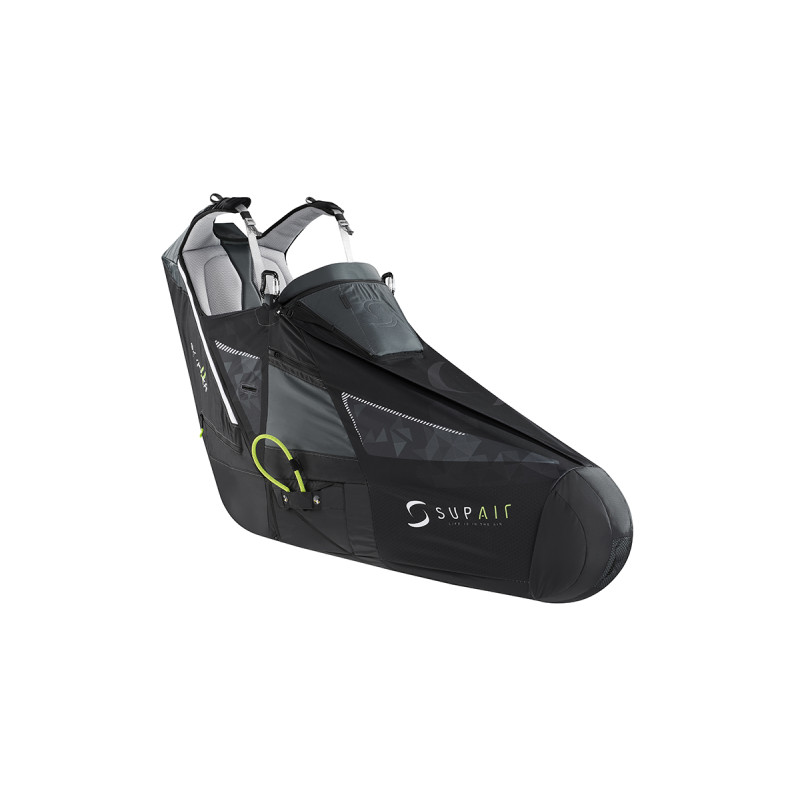  
Sup'Air Skypper 2 - Harness - CrossCountry / XC
Comfort, precicion, high passive safety & full equipment for long flights
The SKYPPER 2 is a cross country and performance harness designed for demanding pilots engaged in regular practice. It is a completely new harness in the spirit of the first SKYPPER: Contained weight and bulk, performance and precision.
The Rid'Air team's opinion:
" ... "
---
Compared to the first Skypper, the Skypper 2 is completely new: the key points that guided the design are: better roll stability (turn handling without collapse), better comfort for increasingly long and difficult flights, new parachute pocket under seat easy and well closed, new speedbag completely assembled to the harness with a taut line, integration of the cockpit to the speedbag, possibility of a second reserve parachute. The Skypper 2's frame is adapted to the extended wing, for a stable and precise piloting with a cushioning that makes technical flights comfortable enough to last. The Skypper 2 is especially comfortable for long flights. The backrest is rigid, reinforced and well-foamed. The seat is snug and the structure distributes all pressure points well.
The Skypper 2 is complete and modular. Comes standard with two interchangeable cockpits: a single cockpit with storage pockets and a ventral rescue parachute pocket. Passive safety is high: Thanks to the thickness of its protective foam, the Skypper 2 benefits from a shock absorption quality superior to the Skypper 1. The geometry has been reworked for a better wing/harness compatibility, from En B+ gliders (like the Step) to EN-D or CCC gliders. Little extra: a branching kit is integrated into the harness.
The harness has everything a pilot can dream of in terms of accessorization: voluminous cockpit with second removable parachute pocket, Drag chute pocket, storage pockets, ballast pocket, carbon profile seat tray... With its taut lines and optimized compared to the previous version, the cocoon printed by sublimation is the witness of a committed design. With two choices of colors!
---
---
16 other products in the same category: