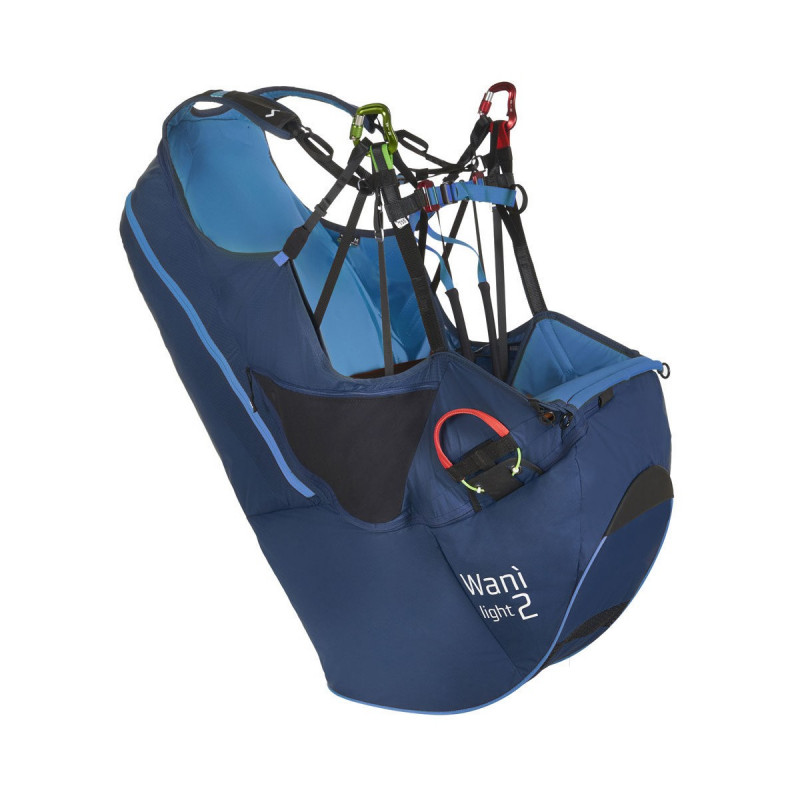  
Woody Valley Wani Light 2 - Airbag harness
A consistently lightweight harness with maximum safety for the hike & fly pilot
The Rid'Air team's opinion:
" ... "
---
The Wanì light has been one of our best selling harnesses so far, thanks to all the feedback and constructive criticism you have sent us, we have managed to develop its improved and equipped successor as follows:
New extra stable frame geometry
Improved waist system for more comfort
New, more comfortable backrest
Two new color combinations
Larger integrated parachute container under the seat
Larger, redesigned integrated backpack
Optional Lightshield back protection
Included two-tier speed bar
Hard polypropylene seat
---
---
Specifications:

Certification

LTF with GET-UP system

Protection

Airbag

Type of closing strap system

Get-Up

Number of certification

PH_286.2019

Speed bar

120 g

Size

S

M

L

XL

Weight*

2,6 Kg

2,75 Kg

2,9 Kg

3,2 Kg

Removable rucksack hip belt weight

116 gr

127 gr

141 gr

141 gr

Distance between karabiner and seat

43 cm

45 cm

47 cm

48 cm

Distance between karabiners

36-47 cm

36-48 cm

36-49 cm

36-49,5 cm

Seat board rear measurement

33,5 cm

35 cm

37 cm

38 cm

Seat board front measurement

30,5 cm

32 cm

34 cm

34,5 cm

Seat board depth measurement

34,7 cm

36,5 cm

38,5 cm

39,5 cm

Rucksack volume

80 liters

88 liters

98 liters

102 liters

Parachute compartment

4,26 liters

4,26 liters

4,26 liters

5,3 liters
Reference: WAYLACY
Brand: Way Gliders
The versatile, simple and light wing EN / LFT ALacy is the beginning wing of initiation.Designed with a view to obtaining the best ratio comfort/performance, it is the ideal first wing in a pilot's life.What? 3.5 kg? This also makes it a rando/travel wing for the more experienced pilot!A new category of wings is born!
Price
€1,930.81
Regular price
€2,354.65
 On Demand
Brand: Sup'Air
Round parachute The Shine is a round Pull Down Apex parachute developed by our in-house design department. Its objective is to offer a very reduced weight and volume while maintaining maximum safety. Thanks to its advanced design and quality materials, it will meet the essential needs of all paraglider pilots.
Price
€458.67
Regular price
€533.33
 Stock
16 other products in the same category: