 
AirDesign - Susi 4 - Light paraglider EN-A-D - Initiation and Progression
…in a nutshell?
Unlimited
…in one picture?
All these so different SuSi passengers having fun together.
…in a dream?
Take my passenger on a world tour by bike, fly high, mountains, dunes, soaring, cross country and so much more.
Rid'Air team opinion:
"Once again, history repeats itself. The Super Simple paraglider enters its 4th generation"
---
Double-coated Skytex, lined seams and border braids: sturdiness is key!
Unsheathed but color-coded lines, strength has never been so easy to disentangle.
Shark nose with Nitinol rods not only to save weight and sturdiness, but for an even more compact folding. So that it fits easily in your small bag.
At the leading edge, ground attachment loops can be used to prevent the paraglider from slipping on a steep and/or slippery (snow) slope.
Razor edge and seamless trailing edge: all seams are internal for an even cleaner surface finish.
Risers of your choice, comfortable in 12mm aramid, or Superlight in dyneema.
New B-C controls, easier and more stable at high speeds.
Technical specifications & Colors
SuSi 4 is homologated from A to D and therefore covers all kinds of needs, pilot skills and practices. And this from very small surfaces already certified EN A (18m2 flat) or B (14, 16m2 flat). Use our tools on this page to find the right one for you!
---
Brochure - Certification - Lines - Manual - Test report
---
SIZE
14
16
18
21
23
26
FLAT SURFACE (m²)
14.09
16.34
18.72
21.16
23.61
25.96
PROJECTED AREA (m²)
12.18
14.12
16.17
18.28
20.40
22.43
FLAT SPAN (m)
8.28
8.91
9.54
10.14
10.71
11.24
PROJECTED SPAN (m)
6.70
7.22
7.72
8.21
8.67
9.10
FLAT ELONGATION
4.86
4.86
4.86
4.86
4.86
4.86
PROJECTED LENGTH
3.69
3.69
3.69
3.69
3.69
3.69
CELLS
34
34
34
34
34
RISERS
Superlight
Superlight
12mm Aramid
12mm Aramid
12mm Aramid
12mm Aramid
WEIGHT (kg)
Superlight risers with Softlinks
1.95
2.18
2.41
2.63
2.85
3.1
WEIGHT (kg)
12mm Aramid Risers with Links
2.18
2.41
2.64
2.86
3.08
3.33
TOTAL FLYING WEIGHT (kg)
standard - EN CERTIFICATION
50-60 (B)
50-65 (B)
50-72 (A)
60-83 (A)
72-97 (A)
85-110 (A)
TOTAL FLYING WEIGHT (kg)
extended - EN CERTIFICATION
60-90 (D)
65-90 (C)
72-90 (B)
83-103 (B)
97-117 (B)
110-125 (B)
The wings are delivered by default with the risers mentioned in the table. Alternative risers are available to order, or as accessories.
The SpeedChart will help you choose the size of SuSi according to your pilot profile.
The Total Flying Weight includes the equipped pilot, his harness, his reserve and his wing.
Superlight: 14 - 16 m2
12mm Aramid: 18 - 21 - 23 - 26m2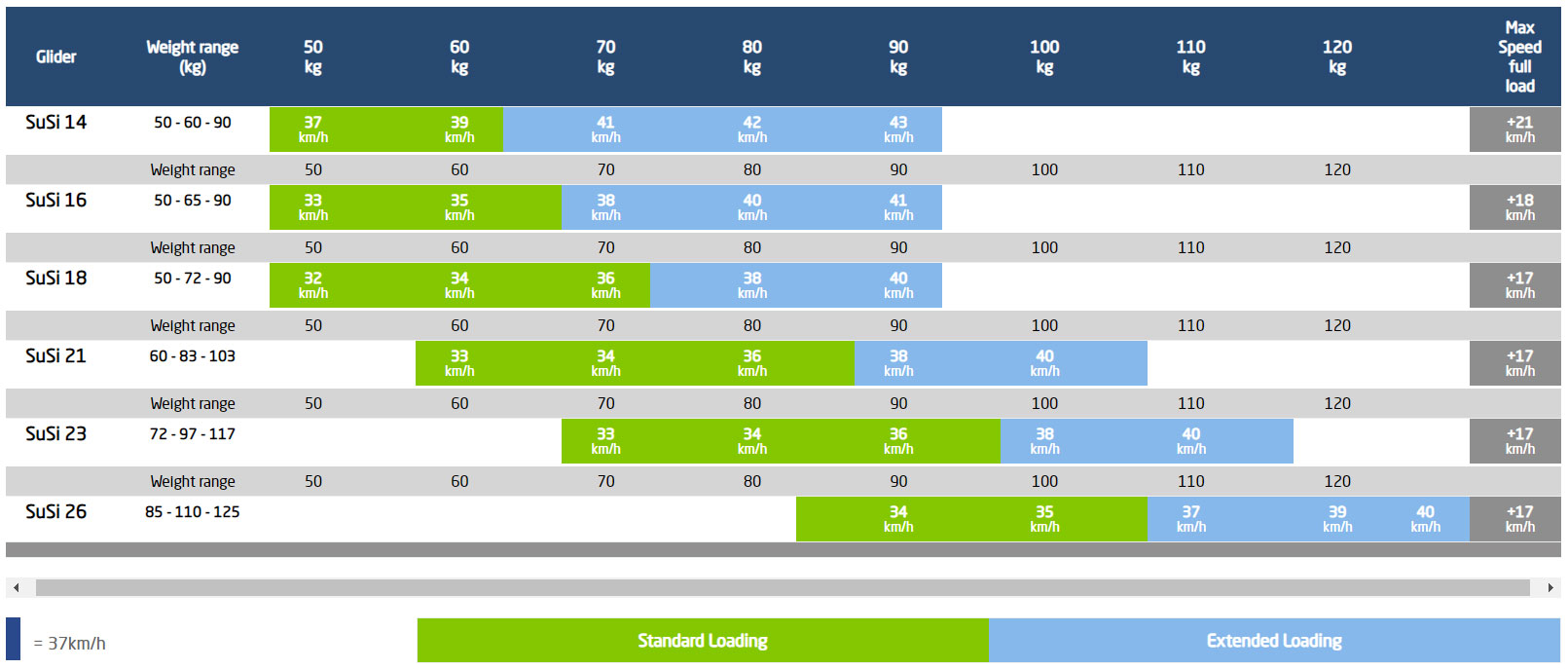 16 other products in the same category:
Brand: Niviuk
Flying without limits Remarkable performance in thermals and intuitive piloting for an optimal level of safety. The Hook 6 P (Feather) is a lightweight wing that offers great versatility and performance: our ultimate progression wing.
Price
€3,042.25
Regular price
€3,537.50
 On Demand
Brand: Air Design
…a word? Intuitive! …a picture? This final glide that concludes an epic cross on an April day in the Alps. …a dream? Any bivouac flight project involving many mountain rests, the Rise 4 is made for it!
Price
€3,116.00
Regular price
€3,800.00
 On Demand
Brand: Air Design
…A word? Nimble! ...An image? A bivouac at sunset with plenty of opportunities for the next day …A dream? A crazy expedition from Patagonia to Alaska in vol-bivouac
Price
€3,526.00
Regular price
€4,100.00
 On Demand
Reference: NIVTAKOO5
Brand: Niviuk
It's time to get closer The fifth generation of Takoo marks the end of the distance between pilot and passenger. A safe, stable and extremely manoeuvrable wing to meet the expectations of both adventurers.
Price
€3,211.67
Regular price
€3,916.67
 On Demand
Brand: Sup'Air
Leave the nest The Eona 3 is the ideal glider for beginning paragliding. Safe, fun and robust at the same time, it will be your faithful ally to discover the joys of flight. 5 sizes available in 6 colors.
Price
€2,391.67
Regular price
€2,916.67
 On Demand
Brand: Ozone
The choice of professionals, for pilot enjoyment and passenger comfort. The Magnum 3 is designed for professional pilots. Its entirely new design allows for remarkable advances in longevity, comfort and ease of use, and especially in the areas of inflation, landing and flight agility.
Price
€3,403.00
Regular price
€4,150.00
 On Demand
Brand: Ozone
After the Rush 5, but 30% lighter The Swift 5 is a reference wing in the Sport-Performance-Light Intermediate category. It was developed with the same technologies as our performance wings, the Enzo 3 and the Zeno, plus some innovations. More than fifteen years of R&D in lightweight sails has resulted in a sail that is not only top of its class in...
Price
€3,283.42
Regular price
€4,004.17
 On Demand
Brand: Air Design
…a word? Pioneer! …a picture? The power you feel in the face of a storm. …a dream? Flying in two lines is no longer a dream! This is your reality!
Price
€3,397.00
Regular price
€4,300.00
 On Demand
Reference: WAYFOXY
Brand: Way Gliders
The EN / LFT B+ accessible freestyle wing The Foxy is a wing dedicated to accro & freestyle Indulgent when attempting choppers, SATs, Misty Flips... She will never let you down! Homologated EN B+, the Foxy is a very versatile freestyle wing that will accompany you as you progress in acrobatic flight!
Price
€1,787.79
Regular price
€2,180.23
 On Demand
Brand: Advance
The IOTA 3 becomes the IOTA DLS. We took advantage of this period to improve our top class B wing, which was already well developed in terms of performance and handling. We have made it significantly lighter and also taken it to a higher level. Welcome to IOTA DLS. DLS stands for DURABLE LIGHTWEIGHT STRUCTURE and marks the start of a new development...
Price
€3,478.17
Regular price
€4,241.67
 On Demand
Brand: Niviuk
The new EN B reference. Polyvalent, safe and high performance. Exceptional maneuverability.
Price
€2,770.92
Regular price
€3,379.17
 On Demand
Reference: ADVOMEGA3
Brand: Advance
Challenge yourself! New latest generation light racing wing: two rows of lines, and a character designed for the highest demands in the most extreme conditions. For the toughest paragliding race in the world, renowned pilots have bet on the OMEGA XALPS 3: in the lead, the big favorite of the X-Alps, Chrigel Maurer in person, but also Aaron Durogati, Toma...
Ultra lightweight single-surface. Ideal with a string harness. The ally of your cross-country flights.
Price
€2,046.08
Regular price
€2,379.17
 On Demand
Reference: VIVKLIM2P
Brand: Niviuk
A legacy of competition The second generation of Klimber was born with the desire to offer the best balance between lightness and performance. It's a two-line kite whose power pushes the limits of both Hike & Fly and Cross Country. With a competitive character, it was designed for the X-Alps.
Price
€3,640.58
Regular price
€4,608.33
 On Demand
Price
€4,115.42
Regular price
€4,841.67
 On Demand
Reference: NIVIKUMA2
Brand: Niviuk
Accessible top performances Don't compromise. The new Ikuma 2 offers you the greatest accessibility and maximum performance in an EN B certified wing. The perfect balance between safety and efficiency to make your adventures an authentic experience and above all fun.
Price
€2,962.25
Regular price
€3,612.50
 On Demand