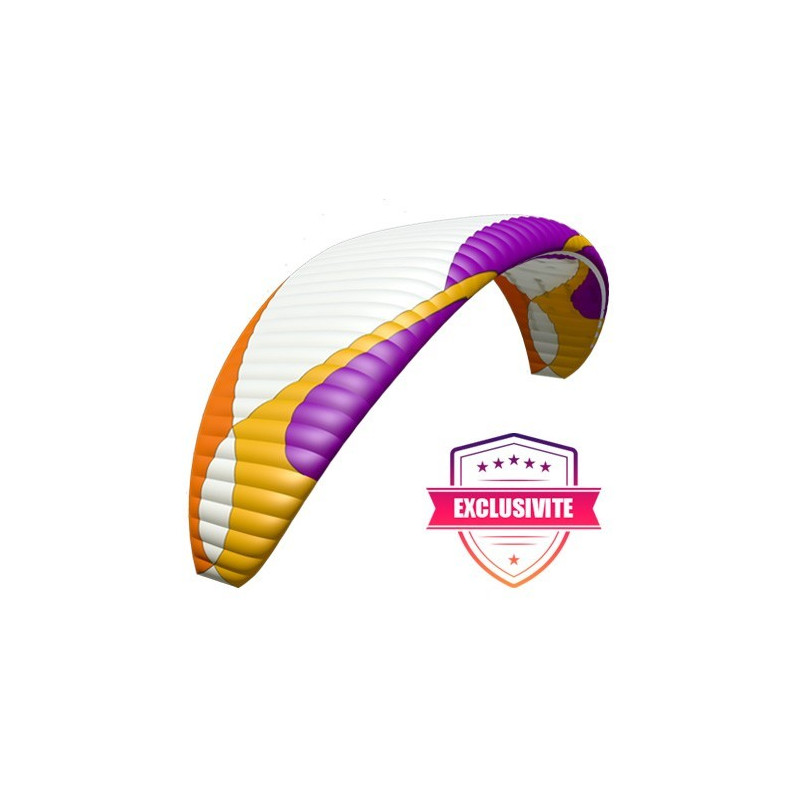  
Way Gliders FOXY - Paraglider EN B+ - Acro & Freestyle - Product stopped
The EN / LFT B+ accessible freestyle wing
The Foxy is a wing dedicated to accro & freestyle
Indulgent when attempting choppers, SATs, Misty Flips... She will never let you down!
Homologated EN B+, the Foxy is a very versatile freestyle wing that will accompany you as you progress in acrobatic flight!
The Rid'Air team's opinion:
" ... "
---
Agile and manageable
The Foxy benefits from a low aspect ratio and a well-balanced plate
On exit from a pattern, the wing flies fast and hangs up easily. It does, however, give you enough time to initiate a chopper. Entering SAT is also very easy. You'll also love playing with her on the ground, fun guaranteed! With the Foxy, the wing overs are agile and intense. Why not try your first asymmetrical tricks on the Foxy?
Technical data

| | | | |
| --- | --- | --- | --- |
| Foxy | 19 | 21 | 23 |
| Cells (qty) | 50 | 50 | 50 |
| Flat (m²) | 19 | 21 | 23 |
| Extension | 5.3 | 5.3 | 5.3 |
| Total weight in flight (min) | | | |
| Total weight in flight (max) | 2.33 | 2.44 | 2.55 |
| Wing weight | 4.4 | 4.7 | 5 |
| EN/LTF certification | B+ | B+ | B+ |
The benefits of the Way Gliders - Foxy
Playful and very agile.
Fun to fly on the ground and in the air.
Easy helo and SAT
Reinforced canopy
Polyvalent: why not try small cross country with the Foxy?
Colorful design: get your freestyle skills noticed
Delivery contents
The accessories included in the delivery allow for optimal transport and storage of the sail.
A zippered compression bag to protect the wing during storage and transport.
Our compression system allows the wing to fit into the smallest reversible harnesses.
A compression strap that will compress the inner bag to reduce its volume and save space.
A repair kit including a sheet of Rispstop sticker in the same color as the sail.
A carry bag to transport your wing and harness from home to launch.
---
---
Feel free to visit the official Way website directly:https://www.waygliders.com/
---
16 other products in the same category:
Brand: Nervures
Lightweight and compact glider. ideal for the first 100 flights. Perfect with a reversible harness.
Price
€2,293.33
Regular price
€2,666.67
 On Demand
Brand: Advance
Ultra-light two-seater for hiking and travelling. Efficient and easy. The ideal ally for your adventures!
Price
€3,512.33
Regular price
€4,283.33
 On Demand
Reference: WAYLACY
Brand: Way Gliders
The versatile, simple and light wing EN / LFT A Lacy is the beginning wing of initiation. Designed with a view to obtaining the best ratio comfort/performance, it is the ideal first wing in a pilot's life.What? 3.5 kg? This also makes it a rando/travel wing for the more experienced pilot! A new category of wings is born!
Price
€1,930.81
Regular price
€2,354.65
 On Demand
Reference: ADVEPSI9
Brand: Advance
The joy of flying There is nothing special to do to give the taste of paragliding to a simple earthling fan of flight. What is special is to offer him positive experiences and high feelings of well-being, which allow him to practice this sport for many years after obtaining the pilot's license. And that's exactly what our new EPSILON series does. Supplied...
Price
€3,251.25
Regular price
€3,825.00
 On Demand
Brand: Nova
The main assets of the MENTOR 7 are above all the great flight comfort it provides to the pilot, both in thermals and in accelerated flight, even in turbulent conditions, and its outstanding glide. The MENTOR 7 is a pure cross-country wing, and its hybrid "2 and a half lines" construction defines the new standards of the EN-B class. 2.5 lines | 66 cells |...
Price
€3,140.60
Regular price
€3,830.00
 On Demand
Brand: Ozone
The choice of professionals, for pilot enjoyment and passenger comfort. The Magnum 3 is designed for professional pilots. Its entirely new design allows for remarkable advances in longevity, comfort and ease of use, and especially in the areas of inflation, landing and flight agility.
Price
€3,403.00
Regular price
€4,150.00
 On Demand
Reference: OZOMOJO6
Brand: Ozone
Best-in-Class Performance, Maximum Safety The Mojo 6 represents an incredible leap forward in performance. This new version features the highest level of passive safety and best-in-class glide. During the development of this project, our mission was to push the performance level to the maximum while maintaining the great stability and ease of use that has...
Price
€2,562.50
Regular price
€3,125.00
 On Demand
Brand: Air Design
…a 2 words? Infinite possibilities …a picture? Follow the course of the sun to cover some distance. …a dream? A summer trip to discover new spots with confidence, the Vivo 2 is perfect for that!
Price
€2,558.50
Regular price
€2,975.00
 On Demand
Reference: NIVIKUMA2P
Brand: Niviuk
Designed to experience beautiful getaways The enormous potential and accessibility of Ikuma 2 in a lean version. A versatile kite for embarking on cross country, bivouac and hike and fly adventures and to let your imagination take you out of your comfort zone.
Price
€3,257.25
Regular price
€3,787.50
 On Demand
Brand: Ozone
The cross country access wing in its new version. enjoy the "real" piloting at the rear on a 3-line, like on the M7 or the Delta. RUSH 6 THE 3/2 LINE INTERMEDIATE SPORTS PARAGLIDER Developed from the Delta 4 Best finesse in its category Incredible stability in turbulence and active air Improved sink rate and lift performance Active Control Risers (ACR)...
Price
€3,403.00
Regular price
€4,150.00
 On Demand
Brand: Advance
The IOTA 3 becomes the IOTA DLS. We took advantage of this period to improve our top class B wing, which was already well developed in terms of performance and handling. We have made it significantly lighter and also taken it to a higher level. Welcome to IOTA DLS. DLS stands for DURABLE LIGHTWEIGHT STRUCTURE and marks the start of a new development...
Price
€3,478.17
Regular price
€4,241.67
 On Demand
Brand: Air Design
The enigma of the two-seater. Often you are forced to choose your size by compromising on passengers at the extremes of weight… But have you considered simply having both? Imagine having the advantage of speed and maneuverability at low weight, while maintaining good support and lift with heavy passengers, all with the same wing!
Price
€3,116.00
Regular price
€3,800.00
 On Demand
Reference: NIVARTIK6
Brand: Niviuk
Welcome to the revolution The Artik 6 heralds the start of a new era of cross-country sails where you have endless possibilities. The fusion of incredible performance and affordability to satisfy your insatiable appetite for miles.
Price
€3,229.13
Regular price
€4,087.50
 On Demand
Brand: Air Design
…a word? Lightweight! …a picture? Once folded in its Airpack 50-50 XS, it is just impossible to guess that it is a two-seater wing. …a dream? Access a virgin slope, skis on… in a galaxy far, far away…
Price
€2,952.00
Regular price
€3,600.00
 On Demand
Reference: ADVPI3
Brand: Advance
Versatility and freedom For years, the PI series has offered a remarkable all-round Hike & Fly package in terms of lightness combined with excellent performance and a high fun factor. The third generation places even greater emphasis on the original motto of this product, "versatility and lightness": the PI 3 comes in two additional sizes, 21 and 25,...
Price
€2,680.33
Regular price
€3,116.67
 On Demand