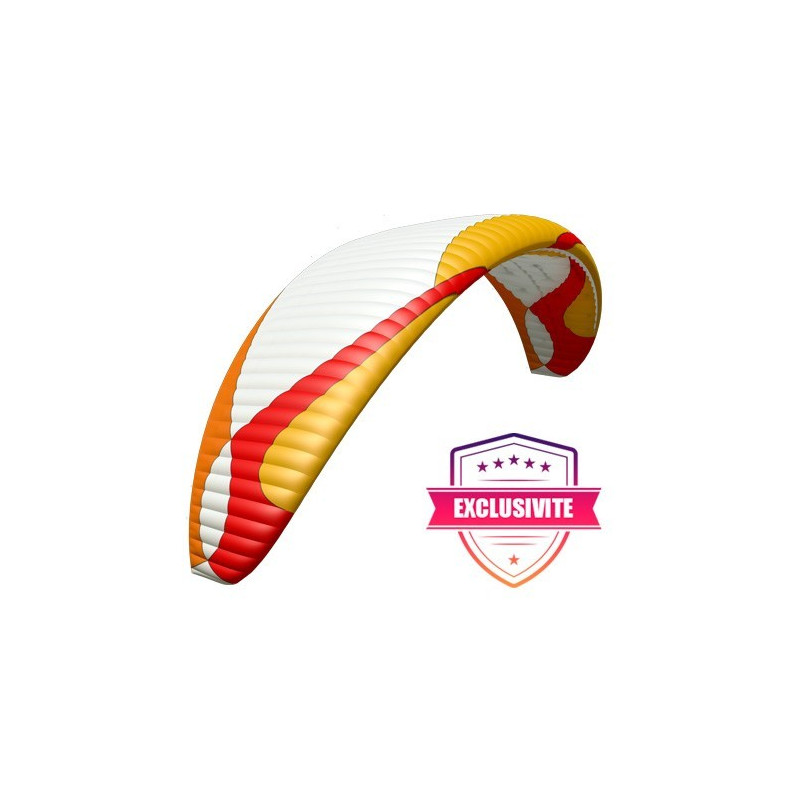  
Way Gliders RUBY - Paraglider EN B+ - Cross Country
The EN / LFT B+ accessible cross country wing
The Ruby is a dedicated cross country wing
Its goal is to give you the best performance possible with a lightweight and maneuverable machine. With the Ruby, your only limit is the length of the day.
Homologated EN B+, this is definitely the wing for your first "100 kilometer"!!
The Rid'Air team's opinion:
" ... "
---
Perfect leading edge and surface finish
High level of engineering and a smooth top surface
The Ruby was built with the most lightweight materials, from fabric to risers to dyneema links. The result is a wing that is as compact as it is agile. Inflating and playing in the wind with the Ruby feels light and easy thanks to the 27g/m porcher. Think light material is fragile? We bet you won't make it to the end of your Ruby's lifespan! It's the 2020s, light is sustainable.
Technical Data

| | | | | |
| --- | --- | --- | --- | --- |
| Ruby | 21 | 23 | 25 | 27 |
| Cells (qty) | 57 | 57 | 57 | 57 |
| Flat (m²) | 21 | 23 | 24.5 | 26.5 |
| Extension | 5.7 | 5.7 | 5.7 | 5.7 |
| Total weight in flight (min) | 55 | 65 | 80 | 95 |
| Total weight in flight (max) | 75 | 85 | 100 | 115 |
| Wing weight | 3.3 | 3.5 | 3.7 | 3.9 |
| EN/LTF certification | B+ | B+ | B+ | B+ |

The benefits of the Way Gliders - Ruby
Very smooth and approachable, she'll put you at ease.
Easy inflation and takeoff thanks to its light weight.
Incredible finesse. "Flights of 100 km: here I am!"
Nitinol rods. Great potential for progression.
Bright colors for a guaranteed "wow" effect!
Delivery Contents

Included accessories ensure the care and transportation of your wing:
A zippered compression bag to protect the wing during storage and transport.

Our compression system allows the wing to fit into the smallest reversible harnesses.

A compression strap that will compress the inner bag to reduce its volume and save space.

A repair kit including a sheet of Rispstop sticker in the same color as the sail.

A carry bag to transport your wing and harness from home to launch.
---
Presentation Video USER MANUAL
---
Feel free to visit the official Way website directly: https://www.waygliders.com/
---
Reference: ADVLIGHTNESS3
Brand: Advance
The LIGHTNESS 3 offers complete comfort both in flight and on the ground, and there is even more protection. The new choice between a standard or lightweight speedbag allows for a wider range of uses; there is also an optional windscreen which significantly increases the level of comfort on long-distance flights.
Price
€1,304.33
Regular price
€1,516.67
 On Demand
Brand: Sup'Air
Round parachute The Shine is a round Pull Down Apex parachute developed by our in-house design department. Its objective is to offer a very reduced weight and volume while maintaining maximum safety. Thanks to its advanced design and quality materials, it will meet the essential needs of all paraglider pilots.
Price
€458.67
Regular price
€533.33
 Stock
Brand: Woody Valley
The highest expression of comfort and lightness.
Price
€1,169.00
Regular price
€1,391.67
 On Demand
16 other products in the same category:
Reference: NIVKOYOT4
Brand: Niviuk
Release your inner pilot Discover the exciting world of paragliding. Gain confidence and basic skills.
Price
€2,360.92
Regular price
€2,879.17
 On Demand
Reference: ADVEPSI9
Brand: Advance
The joy of flying There is nothing special to do to give the taste of paragliding to a simple earthling fan of flight. What is special is to offer him positive experiences and high feelings of well-being, which allow him to practice this sport for many years after obtaining the pilot's license. And that's exactly what our new EPSILON series does. Supplied...
Price
€3,136.50
Regular price
€3,825.00
 On Demand
Brand: Ozone
Sold with 110 l bag for sizes XS and S, 140 l for larger sizes
Price
€3,784.00
Regular price
€4,400.00
 On Demand
Brand: Advance
The IOTA 3 becomes the IOTA DLS. We took advantage of this period to improve our top class B wing, which was already well developed in terms of performance and handling. We have made it significantly lighter and also taken it to a higher level. Welcome to IOTA DLS. DLS stands for DURABLE LIGHTWEIGHT STRUCTURE and marks the start of a new development...
Price
€3,478.17
Regular price
€4,241.67
 On Demand
Brand: Niviuk
Flying without limits Remarkable performance in thermals and intuitive piloting for an optimal level of safety. The Hook 6 P (Feather) is a lightweight wing that offers great versatility and performance: our ultimate progression wing.
Price
€3,042.25
Regular price
€3,537.50
 On Demand
Brand: Ozone
Four years after the Zeno's release, it remains top of the EN D class, and we knew it wouldn't be easy to replace it, but after two years of intense R&D, we finally have a worthy successor.
Price
€4,318.67
Regular price
€5,466.67
 On Demand
Reference: NIVROLLER
Brand: Niviuk
Remember you have no limit Speed, precision and agility, it's all in one remarkably versatile wing.
Brand: Air Design
... a word? Easy of course! ... an image? Wrapping up with birds, so magical! ... a dream? That special day when you decide to go see what's happening on the mountain next door: your first cross!
Price
€2,378.00
Regular price
€2,900.00
 On Demand
Reference: ADVPI3
Brand: Advance
Versatility and freedom For years, the PI series has offered a remarkable all-round Hike & Fly package in terms of lightness combined with excellent performance and a high fun factor. The third generation places even greater emphasis on the original motto of this product, "versatility and lightness": the PI 3 comes in two additional sizes, 21 and 25,...
Price
€2,680.33
Regular price
€3,116.67
 On Demand
Brand: Niviuk
The new EN B reference. Polyvalent, safe and high performance. Exceptional maneuverability.
Price
€2,770.92
Regular price
€3,379.17
 On Demand
Reference: NIVIKUMA2
Brand: Niviuk
Accessible top performances Don't compromise. The new Ikuma 2 offers you the greatest accessibility and maximum performance in an EN B certified wing. The perfect balance between safety and efficiency to make your adventures an authentic experience and above all fun.
Price
€2,962.25
Regular price
€3,612.50
 On Demand
Reference: WAYFOXY
Brand: Way Gliders
The EN / LFT B+ accessible freestyle wing The Foxy is a wing dedicated to accro & freestyle Indulgent when attempting choppers, SATs, Misty Flips... She will never let you down! Homologated EN B+, the Foxy is a very versatile freestyle wing that will accompany you as you progress in acrobatic flight!
Price
€1,787.79
Regular price
€2,180.23
 On Demand
Reference: ADVSIGMA11
Brand: Advance
Ambitious Cross Country Once again, the SIGMA 11 is one of the best performing wings in the C category. This sporty wing from XC has exceptional pitch stability combined with very precise handling. State-of-the-art technologies such as the 3X3D leading edge design and a Pitch Control System offering a two-line wing feel complete this product. A light...
Price
€3,515.50
Regular price
€4,450.00
 On Demand
Brand: Ozone
Safety and Ease in Rando Flight A completely new design, the Jomo 2 offers best-in-class performance. It outperforms the previous version in both glide and handling, passive safety or takeoff. The use of carefully selected materials and optimal assembly techniques allowed the Ozone R&D team to achieve a particularly light wing with a very low volume...
Price
€2,842.67
Regular price
€3,466.67
 On Demand
Reference: NIVSKIN3
Brand: Niviuk
The next big paragliding experience Forget everything you may have heard on single-surface sails. The new Skin 3 brings together the best of dual-surface and mono technologies: for the first time, a single-surface wing offers characteristics and flight comfort comparable to those of a classic paraglider: Comfortable, stable, efficient
Price
€1,814.25
Regular price
€2,212.50
 On Demand
Price
€2,214.00
Regular price
€2,700.00
 Stock