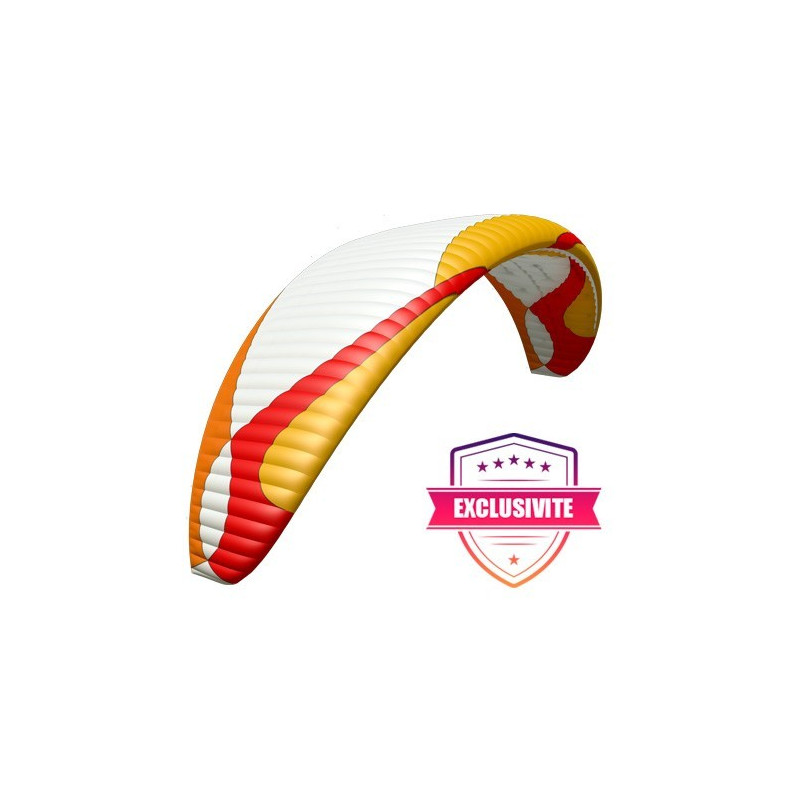  
Way Gliders RUBY - Paraglider EN B+ - Cross Country
The EN / LFT B+ accessible cross country wing
The Ruby is a dedicated cross country wing
Its goal is to give you the best performance possible with a lightweight and maneuverable machine. With the Ruby, your only limit is the length of the day.
Homologated EN B+, this is definitely the wing for your first "100 kilometer"!!
The Rid'Air team's opinion:
" ... "
---
Perfect leading edge and surface finish
High level of engineering and a smooth top surface
The Ruby was built with the most lightweight materials, from fabric to risers to dyneema links. The result is a wing that is as compact as it is agile. Inflating and playing in the wind with the Ruby feels light and easy thanks to the 27g/m porcher. Think light material is fragile? We bet you won't make it to the end of your Ruby's lifespan! It's the 2020s, light is sustainable.
Technical Data

| | | | | |
| --- | --- | --- | --- | --- |
| Ruby | 21 | 23 | 25 | 27 |
| Cells (qty) | 57 | 57 | 57 | 57 |
| Flat (m²) | 21 | 23 | 24.5 | 26.5 |
| Extension | 5.7 | 5.7 | 5.7 | 5.7 |
| Total weight in flight (min) | 55 | 65 | 80 | 95 |
| Total weight in flight (max) | 75 | 85 | 100 | 115 |
| Wing weight | 3.3 | 3.5 | 3.7 | 3.9 |
| EN/LTF certification | B+ | B+ | B+ | B+ |

The benefits of the Way Gliders - Ruby
Very smooth and approachable, she'll put you at ease.
Easy inflation and takeoff thanks to its light weight.
Incredible finesse. "Flights of 100 km: here I am!"
Nitinol rods. Great potential for progression.
Bright colors for a guaranteed "wow" effect!
Delivery Contents

Included accessories ensure the care and transportation of your wing:
A zippered compression bag to protect the wing during storage and transport.

Our compression system allows the wing to fit into the smallest reversible harnesses.

A compression strap that will compress the inner bag to reduce its volume and save space.

A repair kit including a sheet of Rispstop sticker in the same color as the sail.

A carry bag to transport your wing and harness from home to launch.
---
Presentation Video USER MANUAL
---
Feel free to visit the official Way website directly: https://www.waygliders.com/
---
Reference: ADVLIGHTNESS3
Brand: Advance
The LIGHTNESS 3 offers complete comfort both in flight and on the ground, and there is even more protection. The new choice between a standard or lightweight speedbag allows for a wider range of uses; there is also an optional windscreen which significantly increases the level of comfort on long-distance flights.
Price
€1,304.33
Regular price
€1,516.67
 On Demand
Brand: Sup'Air
Round parachute The Shine is a round Pull Down Apex parachute developed by our in-house design department. Its objective is to offer a very reduced weight and volume while maintaining maximum safety. Thanks to its advanced design and quality materials, it will meet the essential needs of all paraglider pilots.
Price
€458.67
Regular price
€533.33
 Stock
Brand: Woody Valley
The highest expression of comfort and lightness.
Price
€1,169.00
Regular price
€1,391.67
 On Demand
16 other products in the same category:
Reference: NIVTAKOO5
Brand: Niviuk
It's time to get closer The fifth generation of Takoo marks the end of the distance between pilot and passenger. A safe, stable and extremely manoeuvrable wing to meet the expectations of both adventurers.
Price
€3,211.67
Regular price
€3,916.67
 On Demand
Reference: ADVEPSI9
Brand: Advance
The joy of flying There is nothing special to do to give the taste of paragliding to a simple earthling fan of flight. What is special is to offer him positive experiences and high feelings of well-being, which allow him to practice this sport for many years after obtaining the pilot's license. And that's exactly what our new EPSILON series does. Supplied...
Price
€3,136.50
Regular price
€3,825.00
 On Demand
Brand: Air Design
…a word? Pioneer! …a picture? The power you feel in the face of a storm. …a dream? Flying in two lines is no longer a dream! This is your reality!
Price
€3,397.00
Regular price
€4,300.00
 On Demand
Brand: Ozone
Lighter, more powerful and more fun than ever! The new Geo 6 represents both the biggest performance increase and the most dramatic weight gain in the entire series. A completely new design allows for significantly higher speed and better glide throughout the speed range, with True Active Air Performance. Modern construction techniques and judicious use...
Price
€3,253.67
Regular price
€3,783.33
 On Demand
Brand: Ozone
The Wisp is an ultra-lightweight tandem wing, perfect for two-person mountain adventures.It's a fun, agile and easy to fly wing, all in a solo weight and volume!
Price
€3,806.17
Regular price
€4,641.67
 On Demand
Reference: NIVSKIN3
Brand: Niviuk
The next big paragliding experience Forget everything you may have heard on single-surface sails. The new Skin 3 brings together the best of dual-surface and mono technologies: for the first time, a single-surface wing offers characteristics and flight comfort comparable to those of a classic paraglider: Comfortable, stable, efficient
Price
€1,814.25
Regular price
€2,212.50
 On Demand
Brand: Sup'Air
Leave the nest The Eona 3 is the ideal glider for beginning paragliding. Safe, fun and robust at the same time, it will be your faithful ally to discover the joys of flight. 5 sizes available in 6 colors.
Price
€2,391.67
Regular price
€2,916.67
 On Demand
Brand: Niviuk
The RISE of a New Era The knowledge gained from the development of the Artik 6 and our other two-liners (the Peak 6, for example) has allowed us to develop the Artik Race, a two-liner EN C.
Price
€3,800.21
Regular price
€4,470.83
 On Demand
Brand: Ozone
A completely new design has resulted in a dramatic leap in performance in the Buzz series. It's speed and glide are on par with top class wings, with passive safety at the highest level. The Z6 is perfect for ambitious beginners and pilots looking to cross-country with high passive safety. The Z6 introduces several technical options in the intermediate...
Price
€2,863.17
Regular price
€3,491.67
 On Demand
Reference: NIVROLLER
Brand: Niviuk
Remember you have no limit Speed, precision and agility, it's all in one remarkably versatile wing.
Price
€2,214.00
Regular price
€2,700.00
 Stock
Reference: ADVBIBETA6
Brand: Advance
More fun at work Flying should be fun. If you do 10 flights a day as a professional tandem pilot - when your priorities are between efficiency, economy and passenger safety, flying is often hard work. For the BIBETA 6 we have strived to achieve the ambitious goal of bringing together the best of current two-seater sails in one and the same product,...
Price
€3,307.33
Regular price
€4,033.33
 On Demand
Brand: Sup'Air
Ultra-light backpack All the precision and comfort of the LEAF2 in a lighter, smaller backpack.
Price
€2,410.42
Regular price
€3,708.33
 On Demand
Brand: Ozone
Safety and Ease in Rando Flight A completely new design, the Jomo 2 offers best-in-class performance. It outperforms the previous version in both glide and handling, passive safety or takeoff. The use of carefully selected materials and optimal assembly techniques allowed the Ozone R&D team to achieve a particularly light wing with a very low volume...
Price
€2,842.67
Regular price
€3,466.67
 On Demand
Brand: Niviuk
Flying without limits Remarkable performance in thermals and intuitive piloting for an optimal level of safety. The Hook 6 P (Feather) is a lightweight wing that offers great versatility and performance: our ultimate progression wing.
Price
€3,042.25
Regular price
€3,537.50
 On Demand
Reference: WAYLACY
Brand: Way Gliders
The versatile, simple and light wing EN / LFT ALacy is the beginning wing of initiation.Designed with a view to obtaining the best ratio comfort/performance, it is the ideal first wing in a pilot's life.What? 3.5 kg? This also makes it a rando/travel wing for the more experienced pilot!A new category of wings is born!
Price
€1,930.81
Regular price
€2,354.65
 On Demand